THE MURDER OF AGNES TIROP A KENYAN ATHLETIC
A young star as i may like to call her is Agnes Jebet Tirop, was born on 23 October 1995.
She was a Kenyan professional long-distance runner who mainly competed in the 5000 meters and cross country runner
She became the second-youngest ever gold medalist in the women's race after Zola Budd At the 2015 IAAF World Cross Country Championships.
She was a medalist at junior level at the World Cross Country and World Junior Championships in Athletics.
She was also the junior champion at the African Cross Country Championships in 2014.
She held a 5000 m best of 14:50.36 minutes. She won the bronze medal in the 10,000 metres events at the 2017 and2019 World Athletic Championships and, at the time of her death in 2021, was the world-record holder in the 10 kilometers women's only event.
In her statement when she broke the 10 000m record at the Adizero Road to Records running festival in Herzogenaurach, Germany, Tirop said: "This is a good start as we start a new season."
Unfortunately, that promise of a glittering future, however, will forever remain just that.
According to the Police, Her lifeless body, with several stab wounds was discovered on her bed in Iten, in western Kenya, on 13 October
"If I tell you how her body looks, you will tear [up] … such a cruel, tragic death. It hurts," is how Michelle Katami, a BBC journalist, described the scene.
Tirop, who represented Kenya in the Olympic games for long-distance running, was found stabbed to death in her home 1month and six days today.
Her death has highlighted incidents of violence against women in the East African country.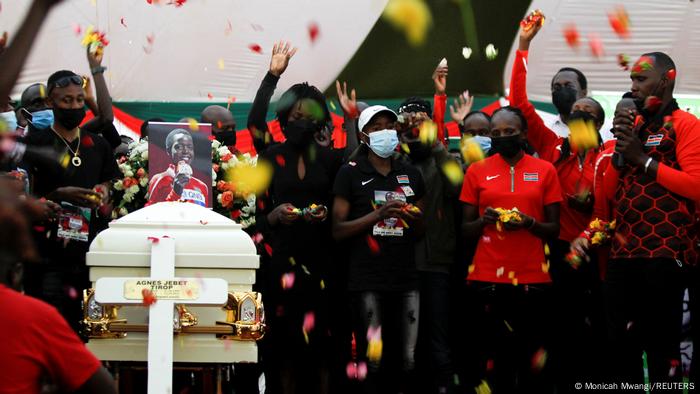 On her very 26th birthday, on Saturday was the day the funeral of Kenyan athlete Agnes Tirop took place.
Hundreds of mourners gathered, among them some of the country's top athletes.
"For us Kenyans, we have lost a hero," said women's 5,000-meter world champion Hellen Obiri, who had been Tirop's mentor. "I told her that, in 2022, she was to go and defend my titles and represent our country," Obiri added.
Many wore Kenya's signature red athletics shirts in honor of Tirop.
The husband of Olympic distance runner Agnes Tirop was charged with her murder on Tuesday and pleaded not guilty in a Kenyan court.
Ibrahim Rotich, 41, had been identified as a person of interest from the first moments after Tirop was found to have stabbed to death at her home in Iten, Kenya, on Oct. 13, and he was arrested in Mombasa the day after Tirop's body was discovered.
The case has drawn attention to violence against women in the country, and Kenyan runners brought an international spotlight to the issue with tributes to the promising runner.
Wonder Planet Team Reporting