WONDER PLANET SPORTS NEWS
CAF Names Nigeria's Greatest Female Footballer in History.
The Confederation of African Football (CAF) have named current Super Falcons captain Asisat Oshoala as the best Nigerian female footballer in history.
Oshoala was named the winner in a poll set by the African's football governing body on FIFA in which fans were asked to pick their best Nigerian female footballer. Other Nigerian former footballers who were also nominated are Mercy Akide, Perpetua Nkocha and Cynthia Uwak.
Asisat Oshoala got 53 per cent of the total votes, while Perpetua Nkwocha came second with 31 percent as Mercy Akide got 1 leaving Uwak with only one vote.
She came on in the second half in the 4-0 win against Chelsea in Gothenburg, Sweden which was an incredible achievement for the for Nigerian star. Asisat Oshoala started her football career on the streets before she joined FC Robo from where she got the chance to join Rivers Angels in 2013.
Her superb performances at the Port-Harcourt based club paved ways for her to join English club Liverpool Ladies where she played nine games netting three goals.
Oshoala is currently playing for Barcelona Ladies and she has so far featured in 32 games netting 33 goals for the Spanish giants.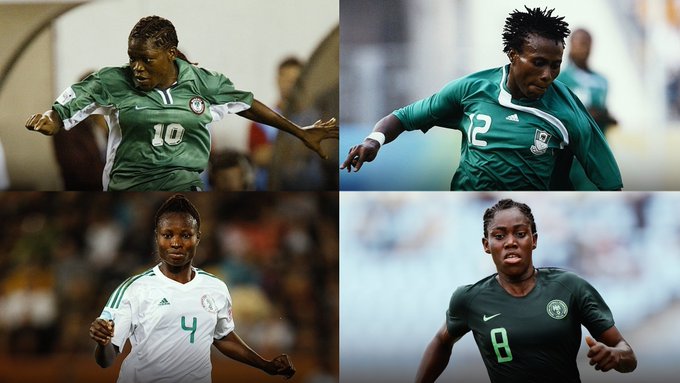 Mercy Akide14.5%
Perpetua Nkwocha31.1%
Cynthia Uwk1.3%
Asisat Oshoala53.1%
Earlier, Legit.ng had reported how Nigeria and FC Barcelona striker, Asisat Oshoala was named among the top 30 inspiring women in celebration of International Women's Day on March 8. The 26-year-old Super Falcons attacker joined the Catalan club in 2019 and has been an incredible performer for them since then.
Stats show that she has scored a staggering 33 goals in 32 appearances for them and helped them win the league title last campaign. As if that was not enough, she also inspired them to the final of the women's UEFA Champions League but lost to eventual winners Lyon who ran off with a 4-1 victory. Oshoala has equally replicated her quality in the national team winning the Africa Women Footballer of the year four times. With her present form, she could win it again soon.
The former Arsenal and Liverpool ladies' forward has led the Super Falcons to three back-to-back Africa Women's Championship with a number of other individual awards including the BBC Women's Footballer of the Year in 2015.
Robert Lewandowski Breaks 49-year-old Bundesliga Record
Man of the moment Robert Lewandowski who plays for Bayern Munich has broken Gerd Muller's 49-year-old record in the German Bundesliga after scoring for his side on Saturday night, May 22.
Bayern Munich players were impressive beating Augsburg 5-2 in front of their faithful's in which Robert Lewandowski scored his 41st League goal of the season at the death.
It was an incredible celebration for the Polish striker who had to remove his shirt after scoring the goal in joyous momentum.
The 32-year-old has now surpassed the 40 goals scored by Muller in the 1971-72 season. His 41 goals were scored in only 29 appearances at a rate of 1.41 goals per game, compared to 40 goals in 34 appearances for Muller at a goals-to-game ratio of 1.18
According to the newsmen, who had reported how Karl-Heinz Rummenigge who is the Chairman of Executive Board of FC Bayern Mnnchen AG has claimed that striker Robert Lewandowski has proven that he is better than Ronaldo and Messi.
There is no doubt about the fact that Robert Lewandowski has been in great form this season for Bayern Munich as it will be recalled that he also helped the team to win Champions League last term.
So far this term in the Bundesliga, the Polish striker has netted 41 goals for Bayern Munich and he is topping the goal scorers chart in Europe.
However, Before Bayern Munich were eliminated in the Champions League by Paris-Saint-Germain, Robert Lewandowki scored five goals for his side.
Karl-Heinz Rummenigge feels Robert Lewandowski should be rated above the likes of Lionel Messi and Cristiano Ronaldo this term.
WONDER PLANET TEAM REPORTING……………